TTT May 2011 kits are up!
(You do not have to be a TTT k
it member to purchase kits and sale items)
If you haven't already emailed me to let me know which kit(s) you'd like for May..please do so.
When you send your reservation email....please put in the subject line May Kit #___ in the subject. Please include your first AND last name in your email.
If you would like to order an extra kit, just let me know which ones you'd like and I will put you down for those. I try to keep up with the kit emails as they come in so I know when a kit is sold out...please assume that you got your first choice, unless you get an email from me letting you know that it was already sold out before your email came in. If you have a question in your email, I do try to answer those quickly.
If you are adding on anything extra, please let me know what your paypal address is too so I can send you an invoice. Thanks!**
May kits will ship at the end of this month.
The DT layouts with the kits will be revealed later this month on the TTT blog, facebook and in the User Gallery
MAY KIT #1-- My Mind's Eye: Lime Twist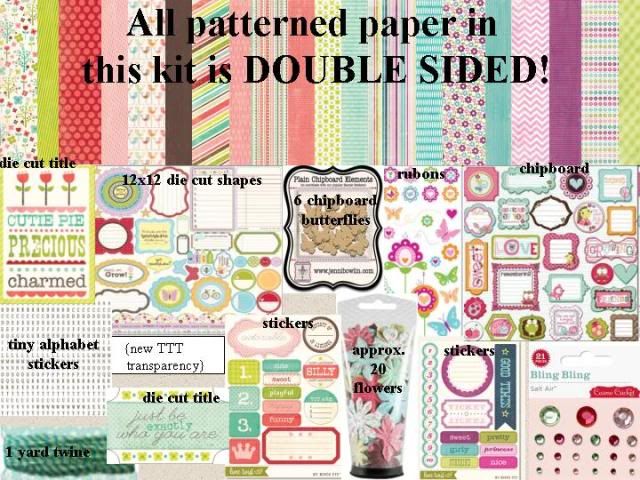 This kit contains.....
10 sheets of Lime Twist double sided patterned paper
1 pkg. Prima journaling chipboard
1 pkg. Kaiser Kraft colored rubons
1 pkg. Cosmo Cricket jewels
approx. 20 misc. Prima flowers
2 different My Mind's Eye titles
1 yard of Pink Paislee twine
2 sheets My Mind's Eye coordinating cardstock stickers
6 Jenni Bowlin butterfly chipboard pieces
1 sheet 12x12 Jillibean Soup diecuts
1 sheet Carolee's Creations mini alphabet stickers



MAY KIT #2-- My Mind's Eye: Lime Twist

This kit contains.....
10 sheets of Lime Twist double sided patterned paper
1 pkg. Kaiser Kraft colored rubons
1/2 pkg. Paper Company jewels
6x6 stretched burlap from Canvas Corp.
approx. 7 different LYB epoxy buttons
3 different My Mind's Eye titles
1 yard of Pink Paislee twine
2 sheets My Mind's Eye coordinating cardstock stickers
1 pkg. Jillibean Soup button blossoms
1 sheet Kaiser Kraft mini alphabet stickers
1 misc. Basic Grey chipboard sheet



More products available to order: