Gosh this was WAY harder than I thought it would be! I think I'll have to post the rest on my own blog because I hated to leave any out. Funny that all the ones I picked happened to have one photo, with lots of "white space." If you would have asked, I would have said using white space was a weakness. I guess this proves that we shouldn't be so hard on ourselves about little things and just enjoy what we create. It may end up being a favorite later!
I love all of these first, and foremost, because of the photos. They all are so full of personality and really bring the memory back all by themselves. The rest is just the fun stuff...
I still remember this day and get a little teary. 4th birthday celebration day at school. Jack didn't want to take off that crown, so I took some sweet photos at the post office of all places!
I could just eat her up! This page is all my favorites...my sweet Carolina laughing, Anna Griffin goodies, houndstooth with pink and green, glitter. Yum!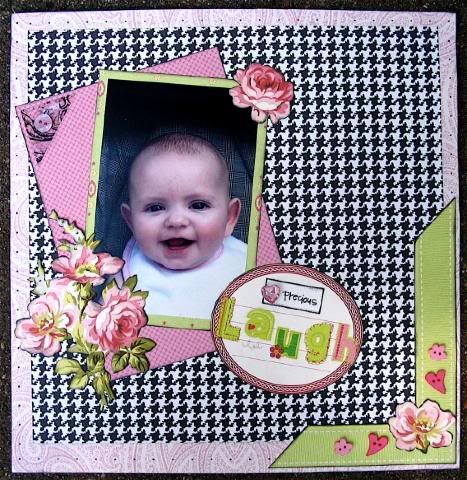 Again, love this one for the memory. And I was proud that so few products could make a favorite page. It really IS about the moments, not the stuff...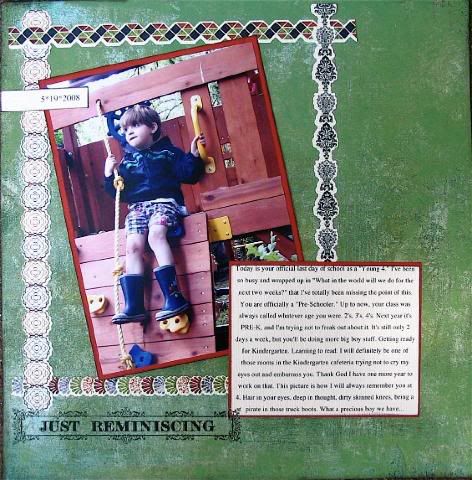 Ok, this one is a tad more materialistic.I loved these wood and fabric glittered leaves from the craft section. I also used a distressed paper scrap from almost two years ago. Go, me! And, of course, who could resist that precious face.
Thanks, Monica for giving me a good cry : )